< Back

to Restaurants
Franky's Tacos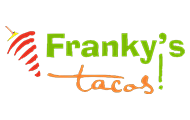 2720 MISHAWAKA AVE
SOUTH BEND, IN 46615
Cuisines: Catering, Mexican, Sandwiches, Vegetarian
---
| | | |
| --- | --- | --- |
| Monday | — | — |
| Tuesday | — | 10:45 - 08:30 |
| Wednesday | — | 10:45 - 08:30 |
| Thursday | — | 10:45 - 08:30 |
| Friday | — | 10:45 - 08:30 |
| Saturday | — | 11:00 - 08:30 |
| Sunday | — | 03:00 - 06:30 |
Delivery pricing may vary from restaurant menu pricing. DineIn prides itself in having the lowest fees in the industry.
Franky's Tacos is participating in 99 CENT DELIVERY THROUGHOUT JULY! This means delivery fees start at ONLY 99 CENTS for orders where subtotal is $25 or more. Delivery fees based on distance. Discount will apply automatically when your subtotal reaches $25.
We're sorry, but we are not currently taking orders for this restaurant. Please try again later.
APPETIZERS
BEAN DIP (WITH CHIPS)


Melted cheese with beans and chips.

$6.09
CHIPS & SALSA (SMALL)


Chips with 4 oz salsa.

$2.19
CHORI QUESO (WITH CHIPS)


Melted cheese with chorizo and chips.

$6.09
FRANKY'S LOADED FRIES


Comes with fries, refried beans, lettuce, tomato, sour cream, cheese and meat of choice.

$11.59
FRANKY'S NACHOS


Comes with chips, refried beans, lettuce, tomato, sour cream, cheese, choice of meat.

$11.59
GUACAMOLE APPETIZER (WITH CHIPS)


Served with chips.

$6.09
JALAPENO QUESO (WITH CHIPS)


Melted cheese with jalapeno and chips.

$6.09
MEXICAN HOT DOG


2 hot dogs wrapped with bacon, pico de gallo, mayo, mustard and ketchup.

$5.49
STREET CORN


Corn, cotija cheese, mayo and piquin chile.

$4.39
WINGS (6)


6 wings with choice of sauce: medium, spicy, BBQ, mango habanero.

$6.59
LIMITED TIME OFFERS
FRIDAY SPECIAL CHICKEN FAJITAS


FRIDAYS ONLY AT THIS SPECIAL PRICE. Served with rice & beans.

$10.99
TACO TUESDAY (W/ RICE & BEANS)


3 tacos with rice and beans. Choose Mexican tacos or American tacos (upcharge). TUESDAYS ONLY!

$8.79
TACOS & MORE
AMERICAN TACO


Flour tortilla, lettuce, tomato, sour cream, cheese, meat of choice.

$3.89
CHIMICHANGA


Choice of meat with cheese, topped with queso, side of rice, beans, lettuce and tomato.

$9.89
MEXICAN TACO


Corn tortilla, cilantro, onion, meat of choice.

$3.29
MULITAS


Tostada with melted cheese, choice of 2 meats, grilled onions, green pepper.

$7.69
QUESABIRRIAS


Corn tortilla with melted cheese, birria meat, cilantro, onion and birria soup.

$10.99
QUESADILLA


Flour tortilla, meat choice, lettuce, tomato, cheese.

$6.59
TACO BOWL


Lettuce, tomato, cheese, sour cream, meat of choice in taco bowl.

$7.69
TORTAS


Bakery bread, mayonnaise, refried beans, meat of choice, lettuce, tomato, cheese.

$9.89
VEGETARIAN TACO


Flour tortilla, beans, rice, lettuce, tomato, avocado, sour cream and cheese.

$3.09
VEGETARIAN TACO BOWL


Beans, rice, lettuce, tomato, cheese, avocado, sour cream in a taco bowl.

$7.69
MEXICAN CUISINE
BURRITO


Beans, choice of meat, lettuce, tomato, sour cream, cheese.

$9.89
CALIFORNIA BURRITO


Beans, choice of meat, lettuce, tomato, pico, guacamole, fries, sour cream and cheese.

$10.99
EGGS & BACON BURRITO
$8.79
EGGS & CHORIZO BURRITO
$8.79
EGGS & HAM BURRITO
$8.79
GORDITAS


Beans, choice of meat, lettuce, tomato, sour cream, cheese.

$4.49
SOPES


Beans, choice of meat, lettuce, tomato, sour cream, cheese.

$4.49
TAMALES (CHICKEN)


With green sauce.

$2.49
TAMALES (PORK)


With red sauce.

$2.49
TAMALES DELUXE (CHICKEN)


With green sauce, topped with cotija cheese and sour cream.

$3.59
TAMALES DELUXE (PORK)


With red sauce, topped with cotija cheese and sour cream.

$3.59
TOSTADAS


Tostada, choice of meat, beans, lettuce, tomato, sour cream and cheese.

$3.89
VEGETARIAN BURRITO


Beans, lettuce, tomato, sour cream, cheese, green or red sauce.

$8.79
WET BURRITO


Beans, choice of meat, lettuce, tomato, sour cream, cheese, green or red sauce.

$10.99
DINNER PLATES
ALAMBRE NORTENO


Grilled beef, chorizo, pastor, bacon, peppers, melted cheese and grilled onions. Accompanied by rice and beans.

$16.49
BISTEC A LA MEXICANA


Beef steak wit onions and peppers in a red sauce, comes with rice and beans.

$15.39
CARNE ASADA


With beans and rice.

$16.49
CHILAQUILES


Red or green sauce, choice of meat, topped with onion, sour cream and cheese.

$11.59
DIVORCED EGGS


2 crunchy tortillas topped with 2 over-easy eggs topped with sauce. Accompanied by rice and beans.

$9.39
EGGS WITH HAM


Accompanied by rice and beans.

$8.79
ENCHILADAS


Choice of cheese or chicken, choice of green, red or mole sauce, topped with lettuce, sour cream and cheese.

$12.09
FAJITAS


Beef, chicken or shrimp. Comes with rice and beans.

$16.49
FLAUTAS


4 flautas, choice of meat, lettuce, tomato, sour cream, cheese. Accompanied by rice and beans.

$12.09
FRANKY'S CHILAQUILES BURRITO


Flour tortilla, beans, scrambled eggs, choice of green or red sauce, choice of meat, cheese, sour cream, wrapped with melted cheese.

$10.99
GUERO SPECIAL


Rice topped with queso and choice of meat, choice of corn or flour tortillas.

$12.09
MEXICAN GOULASH


Steak cooked with onions, tomatoes, jalapenos, pasta and queso. Choice of tortillas.

$14.29
MEXICAN STUFFED PEPPERS


Comes with 2 stuffed peppers, rice and beans.

$12.09
MEXICAN STYLE EGGS


Accompanied by rice and beans.

$8.79
MILANESA


Choice of chicken or beef. Comes with rice and beans.

$12.09
MOLE WITH BEEF


Comes with rice and beans.

$12.09
MOLE WITH CHICKEN


Comes with rice and beans.

$12.09
SCRAMBLED EGGS


Accompanied by bacon and pancakes.

$9.89
TAMPIQUENA


Grilled beef, one enchilada, one quesadilla, rice and beans.

$17.59
SPECIALTIES
| | |
| --- | --- |
| MENUDO (SATURDAY & SUNDAY ONLY) | $12.09 |
KIDS
KIDS CHEESEBURGER


With fries.

$4.39
KIDS NUGGETS


With fries.

$4.39
KIDS SINCRONIZADA


Ham and cheese quesadilla with fries.

$4.39
DRINKS
| | |
| --- | --- |
| HORCHATA WATER (LARGE) | $4.99 |
| HORCHATA WATER (MEDIUM) | $3.29 |
| JAMAICA WATER (LARGE) | $4.99 |
| JAMAICA WATER (MEDIUM) | $3.29 |
| LEMONADE (LARGE) | $4.99 |
| LEMONADE (MEDIUM) | $3.29 |
DESSERTS
| | |
| --- | --- |
| CAKE TRES LECHES | $4.49 |
| CHURROS | $2.29 |
| FLAN | $4.39 |
SIDES
ADD AVOCADO TO MENU ITEM
$0.89
ADD EXTRA MEAT TO MENU ITEM
$2.79
ADD JALAPENOS TO MENU ITEM
$1.19
AVOCADO (SIDE)
$2.29
BEANS (SIDE)
$2.19
CHEESE FRIES
$3.29
CHIPS & SALSA (LARGE)


Chips & 32 oz salsa.

$14.29
CHIPS & SALSA (MEDIUM)


Chips and 16 oz salsa.

$7.69
FRIES (SIDE)
$2.79
GRILLED CHILES (SIDE)
$0.59
LIME (SIDE)
$0.59
PICO DE GALLO (SIDE)
$0.59
RANCH (SIDE)
$0.59
RICE & BEANS (SIDE)
$3.89
SALSA (SMALL SIDE)
$1.09
SHREDDED CHEESE (SIDE)
$1.39
SOUR CREAM (SIDE)
$0.59
CATERING
BURRITO BOX (BURRITO, RICE/BEANS, CHIPS/SALSA)


**MUST ORDER A MINIMUM OF 10**

$9.89
CATERING (10 BURRITOS JUNIOR)


Includes rice, beans, chips and salsa.

$82.49
CATERING (20 TACOS)


Choose Mexican or American style tacos. Mexican served with onions and cilantro. American served with tomatoes, lettuce, cheese and sour cream. Includes rice, beans, chips and salsa.

$76.99
CATERING (30 CHICKEN ENCHILADAS)


Includes rice, beans, chips and salsa.

$82.49
CATERING (30 CHICKEN FLAUTAS)


Includes rice, beans, lettuce, tomato, sour cream and cheese.

$82.49
CATERING (30 TACOS)


Choose Mexican or American style tacos. Mexican served with onions and cilantro. American served with tomatoes, lettuce, cheese and sour cream. Includes rice, beans, chips and salsa.

$115.49
CATERING (BUILD YOUR OWN TACO BOWLS)


10 flour bowls, choice of 2 meats, lettuce, tomatoes, beans, rice, cheese and sour cream.

$60.49
CHORIQUESO (16 OZ)
$13.19
CHORIQUESO (32 OZ)
$26.39
CHORIQUESO (8 OZ)
$7.19
GUACAMOLE (16 OZ)
$13.19
GUACAMOLE (32 OZ)
$26.39
GUACAMOLE (8 OZ)
$7.19
TACO BOX (2 TACOS, RICE/BEANS, CHIPS/SALSA)


**MUST ORDER A MINIMUM OF 10**

$10.99