< Back

to Restaurants
Bruno's Pizza (Roseland/Notre Dame)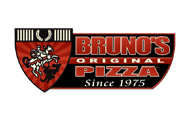 119 DIXIE WAY NORTH
ROSELAND, IN 46637
Cuisines: Catering, Italian, Pizza, Sandwiches, Wings
---
| | | |
| --- | --- | --- |
| Monday | — | — |
| Tuesday | — | — |
| Wednesday | — | — |
| Thursday | — | 04:00 - 07:45 |
| Friday | — | 04:00 - 08:45 |
| Saturday | — | 04:00 - 08:45 |
| Sunday | — | 04:00 - 07:45 |
Delivery pricing may vary from restaurant menu pricing. DineIn prides itself in having the lowest fees in the industry.
This restaurant is not available for delivery at your requested delivery time. Please sign in and set your delivery time to a future date/time that the restaurant is available.
The soonest possible delivery time for this restaurant is Thursday at 5:30 PM.
CREATE YOUR OWN PIZZA
Available toppings: bacon, chicken, ground beef, ham, meatballs, pepperoni, sausage, anchovies, artichokes, black olives, green olives, green peppers, jalapenos, mushrooms, onions, pepper rings, pineapple, spinach, tomato.
PIZZA (12 INCH)
$14.29
PIZZA (14 INCH)
$16.49
PIZZA (16 INCH)
$19.79
PIZZA (20 INCH)
$25.29
PIZZA (CAULIFLOWER CRUST)


10 inch pizza to feed 1-2 people. **gluten-free crust is made in a gluten-rich environment.**

$15.39
SPECIALTY PIZZA
BACON CHICKEN RANCH PIZZA (12 INCH)


Seasoned chicken, bacon, mozzarella, ranch base.

$18.09
BACON CHICKEN RANCH PIZZA (14 INCH)


Seasoned chicken, bacon, mozzarella, ranch base.

$21.39
BACON CHICKEN RANCH PIZZA (16 INCH)


Seasoned chicken, bacon, mozzarella, ranch base.

$27.49
BACON CHICKEN RANCH PIZZA (20 INCH)


Seasoned chicken, bacon, mozzarella, ranch base.

$35.29
BACON CHICKEN RANCH PIZZA (GLUTEN-FREE CRUST)


Seasoned chicken, bacon, mozzarella, ranch base. 10 inch pizza to feed 1-2 people. **gluten-free crust is made in a gluten-rich environment.

$19.19
COMBINATION PIZZA (12 INCH)


Sausage, pepperoni, mushrooms, onion, green peppers, black olives.

$19.99
COMBINATION PIZZA (14 INCH)


Sausage, pepperoni, mushrooms, onion, green peppers, black olives.

$23.79
COMBINATION PIZZA (16 INCH)


Sausage, pepperoni, mushrooms, onion, green peppers, black olives.

$31.39
COMBINATION PIZZA (20 INCH)


Sausage, pepperoni, mushrooms, onion, green peppers, black olives.

$40.19
COMBINATION PIZZA (GLUTEN-FREE CRUST)


Sausage, pepperoni, mushrooms, onion, green peppers, black olives. 10 inch pizza to feed 1-2 people. **gluten-free crust is made in a gluten-rich environment.

$21.09
DECICCO STYLE PIZZA (12 INCH)


Sausage, tomato, mushroom, onion, green pepper, oregano, garlic, parmesan. No mozzarella cheese.

$19.99
DECICCO STYLE PIZZA (14 INCH)


Sausage, tomato, mushroom, onion, green pepper, oregano, garlic, parmesan. No mozzarella cheese.

$23.79
DECICCO STYLE PIZZA (16 INCH)


Sausage, tomato, mushroom, onion, green pepper, oregano, garlic, parmesan. No mozzarella cheese.

$31.39
DECICCO STYLE PIZZA (20 INCH)


Sausage, tomato, mushroom, onion, green pepper, oregano, garlic, parmesan. No mozzarella cheese.

$40.19
DECICCO STYLE PIZZA (GLUTEN-FREE CRUST)


Sausage, tomato, mushroom, onion, green pepper, oregano, garlic, parmesan. No mozzarella cheese. 10 inch pizza to feed 1-2 people. **gluten-free crust is made in a gluten-rich environment.

$21.09
MARGARITA PIZZA (12 INCH)


Tomato, basil, fresh mozzarella, olive oil base.

$18.09
MARGARITA PIZZA (14 INCH)


Tomato, basil, fresh mozzarella, olive oil base.

$21.39
MARGARITA PIZZA (16 INCH)


Tomato, basil, fresh mozzarella, olive oil base.

$27.49
MARGARITA PIZZA (20 INCH)


Tomato, basil, fresh mozzarella, olive oil base.

$35.29
MARGARITA PIZZA (GLUTEN-FREE CRUST)


Tomato, basil, fresh mozzarella, olive oil base. 10 inch pizza to feed 1-2 people. **gluten-free crust is made in a gluten-rich environment.

$19.19
MEAT LOVER PIZZA (12 INCH)


Bacon, ham, ground beef, pepperoni, sausage.

$19.99
MEAT LOVER PIZZA (14 INCH)


Bacon, ham, ground beef, pepperoni, sausage.

$23.79
MEAT LOVER PIZZA (16 INCH)


Bacon, ham, ground beef, pepperoni, sausage.

$31.39
MEAT LOVER PIZZA (20 INCH)


Bacon, ham, ground beef, pepperoni, sausage.

$40.19
MEAT LOVER PIZZA (GLUTEN-FREE CRUST)


Bacon, ham, ground beef, pepperoni, sausage. 10 inch pizza to feed 1-2 people. **gluten-free crust is made in a gluten-rich environment.

$21.09
VEGGIE PIZZA (12 INCH)


Tomato, mushroom, onion, green pepper, black olives.

$18.99
VEGGIE PIZZA (14 INCH)


Tomato, mushroom, onion, green pepper, black olives.

$22.59
VEGGIE PIZZA (16 INCH)


Tomato, mushroom, onion, green pepper, black olives.

$29.49
VEGGIE PIZZA (20 INCH)


Tomato, mushroom, onion, green pepper, black olives.

$38.49
VEGGIE PIZZA (GLUTEN-FREE CRUST)


Tomato, mushroom, onion, green pepper, black olives. 10 inch pizza to feed 1-2 people. **gluten-free crust is made in a gluten-rich environment.

$20.09
WARD STYLE PIZZA (12 INCH)


Sausage, spinach, mushroom, onion, garlic, green olives.

$19.99
WARD STYLE PIZZA (14 INCH)


Sausage, spinach, mushroom, onion, garlic, green olives.

$23.79
WARD STYLE PIZZA (16 INCH)


Sausage, spinach, mushroom, onion, garlic, green olives.

$31.39
WARD STYLE PIZZA (20 INCH)


Sausage, spinach, mushroom, onion, garlic, green olives.

$40.19
WARD STYLE PIZZA (GLUTEN-FREE CRUST)


Sausage, spinach, mushroom, onion, garlic, green olives. 10 inch pizza to feed 1-2 people. **gluten-free crust is made in a gluten-rich environment.

$21.09
SIDES
| | |
| --- | --- |
| GARLIC SAUCE (SIDE) | $0.99 |
| MARINARA SAUCE (SIDE) | $0.99 |
| NACHO CHEESE (SIDE) | $0.99 |
| RANCH DRESSING (SIDE) | $0.99 |